mi6 confidential
magazine

Advisory for EU customers
With Great Britain leaving the European Union, MI6 Confidential does not anticipate significant price rises for shipping to the EU. However, each parcel will now require customs clearance and this will add to the delivery times. Please allow two to four additional days for shipping. We anticipate the delays to reduce later in the year.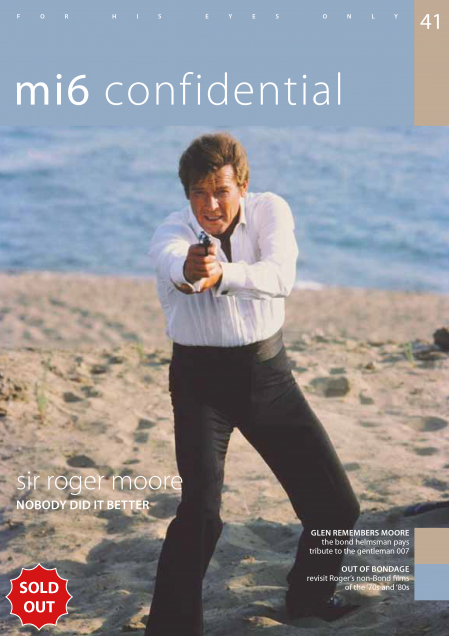 Currently Unavailable
We are out of stock of this issue or bundle.
Choose Your Country or Region
Choose Your Country or Region
issue 41, volume 11, august 2017
In this edition, we look back at the later part of Moore's tenure as 007, starting with For Your Eyes Only, which incidentally marks John Glen's directorial debut on the James Bond films. Glen would subsequently direct Moore's next three Bond films, including his final performance as Bond in A View To a Kill. In this issue, Glen offers his insight into directing Sir Roger Moore and his memories of the actor.
We simply couldn't pack in a fitting tribute to all seven of his 00-films in a single publication, as such this issue is released and intended to be enjoyed alongside issue 40. So, join us in celebrating Sir Roger's Bond films, perhaps raise a glass (Martini, shaken, not stirred, naturally), to this British icon and remember him with fondness for all the joy he has brought us over the years.
In This Issue
Down to earth - For Your Eyes Only
Eggs, preferably fabergé; dice, preferably loaded - Octopussy
Intuitive improvisation, the secret of genius - A View To A Kill
Remembering Roger - Director John Glen recalls his time with the 007 star
Double oh heaven - Photographer Mark Mawston remembers working with Sir Rog
Out of bondage - Moore enjoyed a healthy film career alongside his stint as 007
Look Inside