mi6 confidential
magazine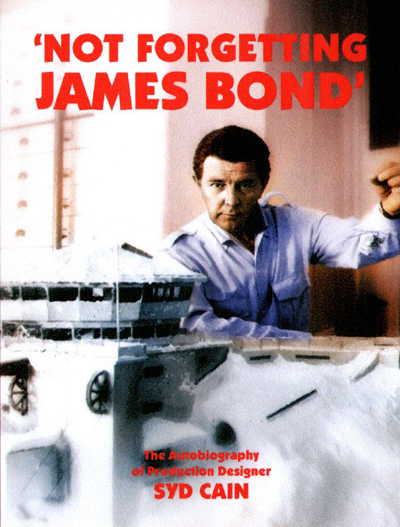 Order Now
This rare autobiography is a hard-to-come-by classic, and is signed by the late legendary production designer, shipping today for £60 + P&P


Check Out With Credit Card
Issue doesn't exist
Choose Your Country or Region
not forgetting james bond
"Not Forgetting James Bond" is the autobiography of Syd Cain, one of cinema's most highly acclaimed Production Designers and Art Directors. This is a mesmerising volume filled with humour, drama and exotic travel, and never before told accolades about the legendary people Syd worked with during his 57 years in the film industry.
He recalls extraordinary revelations about making such films as "Frenzy", "The Wild Geese", "Lolita", "Shout at the Dead", "Gold", "A Funny Thing Happened on the Way to the Forum", "Fahrenheit 451", and of course the James Bond classics: "Dr. No", "From Russia With Love", "On Her Majesty's Secret Service", "Live and Let Die" and "GoldenEye".
Along the way, he's endured terrifying voodoo rituals, hundreds of rampaging rats, lesbian elephants, and the good, the bad and the ugly among the industry's actors, directors and producers including Alfred Hitchcock, Stanley Kubrick, Robert Mitchum, Gregory Peck, Laurence Olivier, Roger Moore, Albert R. Broccoli, Harry Saltzman, Richard Lester, George Lazenby and many others. Illustrated with many rare photos from Syd Cain's personal collection as well as the archives of the James Bond producers, this is a highly personal memoir that no movie lover will want to be without.
The autobiography was published in 2002 by Daleon Enterprises (Cinema Retro magazine publishers Lee Pfeiffer and Dave Worrall) with a limited edition of 1,000 signed hardbacks. The book contains a wealth of extremely rare and previously unpublished behind the scenes production photos from Syd Cain's personal family archives.
"Syd's book reminded me of the many fabulous times we had working together - an excellent read"
- Roger Moore
Pages: 190
Dimensions: 18.7cm x 24.8cm x 1.6cm
ISBN: 9780954359904
Published: 16th November 2002
Language: English
Format: Hardback
Edition: First / Signed
Published By: GBU Publishing