mi6 confidential
magazine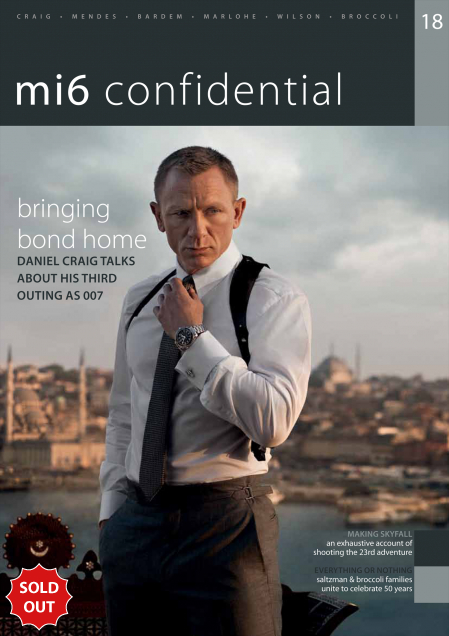 Currently Unavailable
We are out of stock of this issue or bundle.
* We have detected you are not ordering from a country to which we can offer Amazon checkout. We currently only checkout via Amazon to customers in the US. If you are trying to ship an item to either location but cannot see the Amazon checkout button above, please contact us.
** All magazines shipped from the UK.
Choose Your Country or Region
Payment Authorised
Thank you for your payment, your transaction ID is:
×
Choose Your Country or Region
×
issue 18, volume 6, october 2012
We undeniably have a classic in the making on our hands in the form of Skyfall. To celebrate the release of the 23rd adventure, MI6 Confidential takes you behind the scenes of the shoot with an exhaustive account of the production.
Also in this issue, Daniel Craig gives MI6 a candid interview about his role both on screen and off and Sam Mendes comments on the return of some of the classic Bond elements. Rounding out the coverage are interviews with Javier Bardem, the producers, and the new Bond girl Bérénice Marlohe.
In This Issue
Daniel Craig Interview - The 007 star talks about "Skyfall" and the future of Bond
Bringing Bond Home - An exhaustive account of the making of the 23rd Bond film
Classic Ingredients - Director Sam Mendes shares some of the classic "Skyfall" Bond moments
You Naughty Boy - Bérénice Marlohe reflects on her relationship with 007
Are You Sitting Comfortably? - Javier Bardem dissects his creepy character
Standing on the Shoulders of Giants - Michael G. Wilson and Barbara Broccoli on the 007 legacy
Everything or Nothing - The Saltzman & Broccoli families unite to celebrate 50 years of Bond
The Bond Connection - Celebrating Harry Saltzman's lesser known pre-Bond productions
Look Inside