mi6 confidential
magazine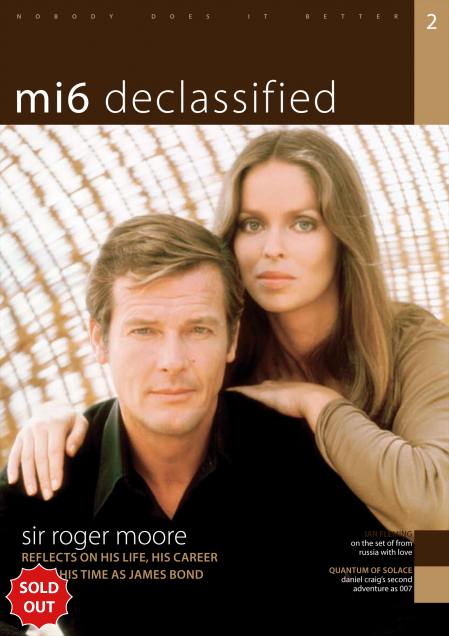 Currently Unavailable
We are out of stock of this issue or bundle.
* Amazon checkout is not available for this product.
** All magazines shipped from the UK.
Choose Your Country or Region
Payment Authorised
Thank you for your payment, your transaction ID is:
×
Choose Your Country or Region
×
issue 2, volume 1, february 2008
The theme of issue #2 is very much 'the Moore the merrier', as we have an exclusive interview with the longest-running James Bond actor Sir Roger Moore, a 30th anniversary celebration of his favourite 007 outing "The Spy Who Loved Me" where cast and crew reflect on keeping the British end up, and the very first look at "Quantum of Solace".
NB: In 2011 MI6 Declassified was renamed MI6 Confidential.
In This Issue
Exclusive interview with Sir Roger Moore on his years before, during and after 007
Ian Fleming his reports on location in Istanbul for From Russia With Love
Nobody des it better with The Spy Who Loved Me 30th anniversary
The first glimpse at Daniel Craig's second James Bond outing
The Midas Touch? Sean Connery on the Goldfinger script
Martine Beswicke talks about her two Bond girl roles
A look back at the works of Pan paperback artist Sam Peffer
GoldenEye 007 the legend lives on - the title that changed gaming forever
Look Inside