mi6 confidential
magazine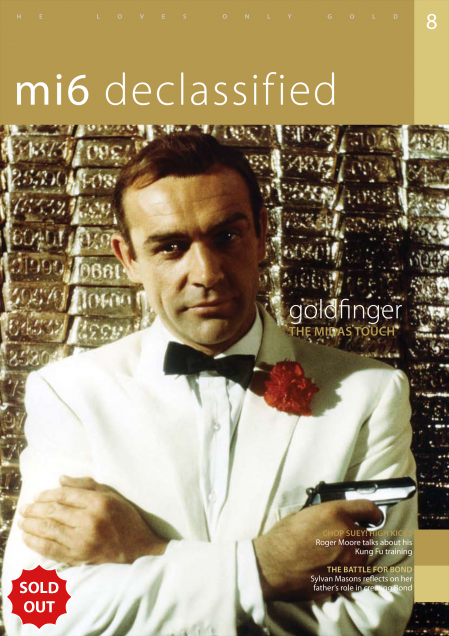 Currently Unavailable
We are out of stock of this issue or bundle.
Issue doesn't exist
Choose Your Country or Region
Choose Your Country or Region
issue 8, volume 3, november 2010
Whenever polls are conducted to find the best ever James Bond film, Goldfinger always rises to the top of the public's selection. In this issue, MI6 Declassified lifts the lid on the recipe that defined a genre and demystifies some of the alchemy that turned Sean Connery's third outing as 007 in to 24ct cinematic gold.
Also, Roger Moore recounts his time in Kung Fu training for "The Man With The Golden", and Sylvan Mason reveals the role her acclaimed screenwriter father Jack Whittingham had in crafting 007's on-screen persona.
NB: In 2011 MI6 Declassified was renamed MI6 Confidential.
In This Issue
The Midas Touch - behind the scenes of the best loved James Bond movie
What Happened to 007's DB5? On the trail of the world's most famous car
High Kicks with Sir Roger Moore - filming the kung fu stunt scenes
The Battle for Bond - 007's unsung hero screenwriter, Jack Whittingham
Director Lewis Gilbert on managing Sean Connery and the press
GoldenEye 007 producer discusses the latest videogame
Factory Entertainment recreate Scaramanga's one-shot weapon
OSS 117 writer-director Michel Hazanavicius reveals his Bond influences
Look Inside