mi6 confidential
magazine

Advisory for EU customers
With Great Britain leaving the European Union, MI6 Confidential does not anticipate significant price rises for shipping to the EU. However, each parcel will now require customs clearance and this will add to the delivery times. Please allow two to four additional days for shipping. We anticipate the delays to reduce later in the year.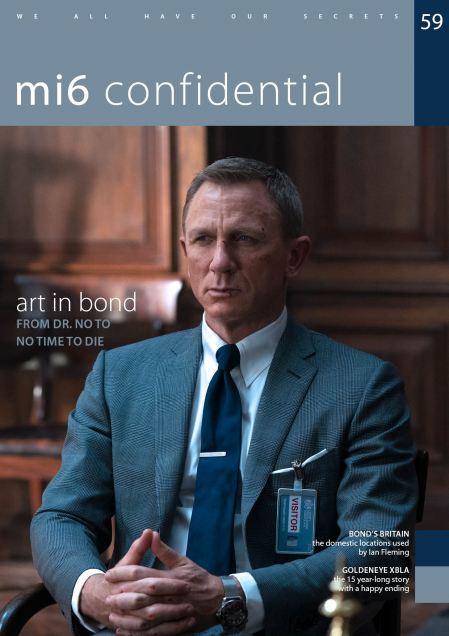 Order Now... For The Whole Year

Receive this issue immediately and save on the rest of the 2021 magazine season. Five magazines from £28 plus p&p.

Order 2021 Magazine Season »
Order Now
This text-rich, full colour magazine is shipping worldwide for: £7.00 / $9.50 / €8.50 + P&P

Choose Your Country or Region
Choose Your Country or Region
issue 59, volume 15, apr 2021
As we enter the third year in which the 25th James Bond film was scheduled to be released, it's a salient time to look back at how the franchise planned to stay alive during the last big hiatus in the early 1990s with a much-derided kids cartoon series.
This issue also reveals the artwork chosen to update M's office in No Time To Die and how the series has used real-world paintings to convey character from the very beginning in Dr. No.
In This Issue
Bond's Britain the domestic locations used by Ian Fleming
Worth the wait it is now possible to play GoldenEye 007 on Xbox 360s
We will sock you a small British business got a life-changing email from EON
Painting a picture famous paintings as they appear as plot devices, callbacks or signals of villainy
James Bond Jr. a beginner's guide
SAS: Red Notice the spy thriller a decade in the making, debuts on Sky
Look Inside