mi6 confidential
magazine

Advisory for EU customers
With Great Britain leaving the European Union, MI6 Confidential does not anticipate significant price rises for shipping to the EU. However, each parcel will now require customs clearance and this will add to the delivery times. Please allow two to four additional days for shipping. We anticipate the delays to reduce later in the year.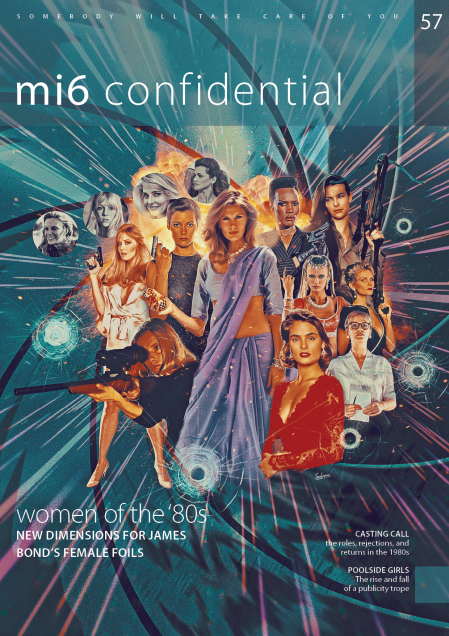 Order Now
This text-rich, full colour magazine is shipping worldwide for: £7.00 / $9.50 / €8.50 + P&P

Choose Your Country or Region
Choose Your Country or Region
issue 57, volume 14, november 2020
The 1980s provided fans five 007 adventures and two different James Bond's - tied as the most productive decade with the 1960s.
Starting with the crossbow-wielding Melina set out on a mission of revenge, and ending with Pam's strong-willed CIA pilot, the female characters of the 1980s were far from the gun-arm hanging damsels in distress the series had been criticized for in earlier decades. With shifts in pop culture and societal norms, casting the women for this era took on new dimensions and would also see the peak and the end of the 'poolside girls' publicity trope.
In This Issue
Casting the Leading Ladies of the 1980s
The Poolside Girls of For Your Eyes Only
The Circus Girls of Octopussy
Maud Adams & Kristina Wayborn Remember Octopussy
Stacey Sutton & May Day Profiles
The Party Girls of A View To A Kill
The Women of The Living Daylights
Pam Bouvier & Lupe Lamora Profiles
Look Inside