mi6 confidential
magazine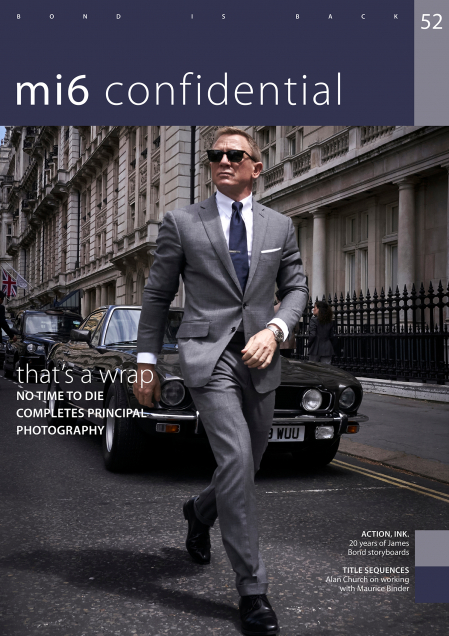 Order Now
This text-rich, full colour magazine is shipping worldwide for: £7.00 / $9.50 / €8.50 + P&P


Check Out With Credit Card
** This magazine ships from the UK or US.
Amazon not available for this issue.
Choose Your Country or Region
Choose Your Country or Region
issue 52, volume 13, nov 2019
It's often said a reputation precedes a man. It is undoubtedly true in the case of Maurice Binder. An artist in all the senses of the word, Binder's design defined the Bond titles for two generations of cinemagoers. He was famously and fiercely independent, and his reputation has gone down in Bond lore. Few knew him better than camera operator Alan Church, who, this issue, confides in us about his experiences working on Bond titles.
We also look back at the creative processes behind storyboarding and previsualisation with two veteran artists, hear from special effects wizard John Richardson, and with No Time To Die wrapping a busy 184 days of production, take a look back at one of the favoured locations of the Daniel Craig era – Italy – with his 007 having visited on four of his five adventures.
In This Issue
That's A Wrap - Principal photography completes on No Time To Die
Bentornato Signor Bond - Craig's Bond heads back to Italy for the fourth time
The Stories Are True - Optical camera operator Alan Church remembers Maurice Binder
Action, Ink - Two storyboard artists talk about the last 20 years of Bond
A Believable Fiction - Special effects tricks with John Richardson
Beyond Bond - Sacha Baron Cohen plays Eli Cohen in The Spy
Look Inside