mi6 confidential
magazine

Advisory for EU customers
With Great Britain leaving the European Union, MI6 Confidential does not anticipate significant price rises for shipping to the EU. However, each parcel will now require customs clearance and this will add to the delivery times. Please allow two to four additional days for shipping. We anticipate the delays to reduce later in the year.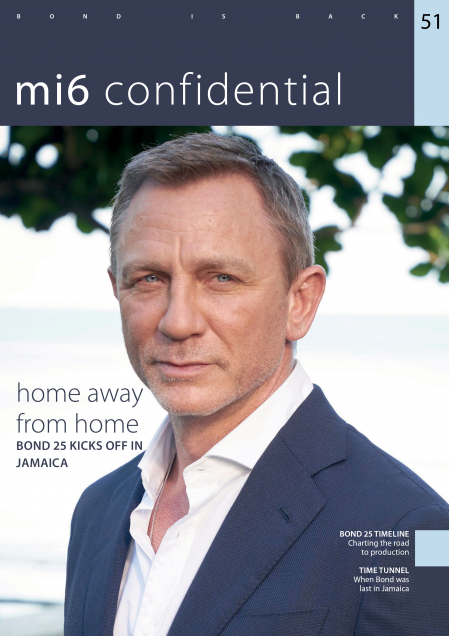 Order Now
This text-rich, full colour magazine is shipping worldwide for: £7.00 / $9.50 / €8.50 + P&P

Choose Your Country or Region
Choose Your Country or Region
issue 51, volume 13, july 2019
Bond 25 kicked off principal photography with a meet-the-cast style simulcast from the place where 007 was born: Fleming's Goldeneye estate. The road to production for Bond 25 was rocky to say the least, but a strong, young cast and some beautiful backdrops – including Matera (Italy), Nittedal (Norway), & the northern coast of Jamaica – promise a diverse and colourful fifth adventure for Daniel Craig. A Royal visit to Pinewood Studios gave the production a much needed media boost in June.
This issue we celebrate Bond's Jamaican roots, with a look at Fleming's relationship with the island nation and the past occasions that Jamaica hosted filming for EON. We also meet the props masters painstakingly making SPECTRE replicas.
In This Issue
Bond 25 Begins - The kick-off event in Jamaica
Bond 25 Timeline - Charting the road to production
Home Away From Home - Ian Fleming and Jamaica
Time Tunnel - When Bond visited Jamaica for Live and Let Die and Dr. No
Royal Return - Prince Charles visits the set of Bond 25
Bond Ingredients - How the 'Bondian formula' evolves through the years
Beyond Bond - Two early 20th century authors with parallels to Ian Fleming
Look Inside