mi6 confidential
magazine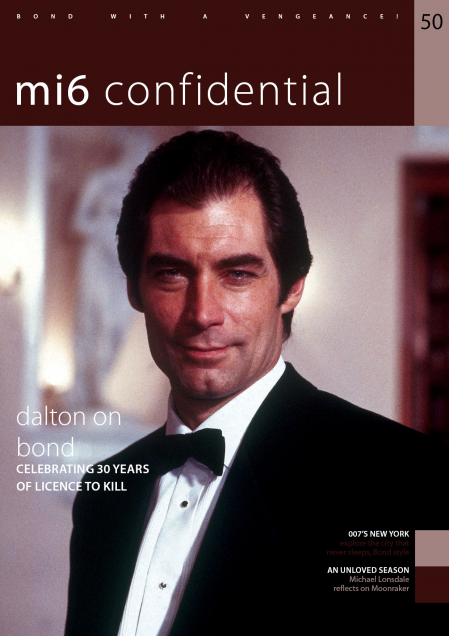 Order Now... For The Whole Year

Receive this issue immediately and save on the rest of the 2019 magazine season. Five magazines from £28 plus p&p.

Order 2019 Magazine Season »
Order Now
This text-rich, full colour magazine is shipping worldwide for: £7.00 / $9.50 / €8.50 + P&P


Check Out With Credit Card
** This magazine ships from the UK or US.
Amazon not available for this issue.
Choose Your Country or Region
Payment Authorised
Thank you for your payment, your transaction ID is:
×
Choose Your Country or Region
×
issue 50, volume 13, apr 2019
For the 16th Bond adventure Michael G. Wilson took the lead in penning a darker, more brooding Bond story, borrowing only a smattering of Fleming source material and setting the story South of the border. Dalton, who firmly believed Bond wasn't for children, welcomed the increased violence and danger. 30 years on the film reveals more than you might think about the future of Bond: as well as cranking up the violence, it set a 30-year tone for poster design, and showed Bond with a vested, personal interest in the mission.
This issue celebrates the film many look on as an 'outlier' of the series by dipping back into the press archives and hearing from its stars. We also learn how to explore New York like 007 and reveal a scrapped sequence from Die Another Day.
In This Issue
Dalton on Bond - Celebrating 30 years of Licence To Kill
Dalton in Japan - A snapshot of the massive media coverage in Japan
Tonal Shift - Licence to Kill saw the introduction of more photography into 007's promotional posters
007's New York - Visit the city that never sleeps following Fleming's Bond
An Unloved Season - Michael Lonsdale reflects on Moonraker as it marks 40 years
Wai Lin Returns - The Die Another Day abandoned sequence that almost included Michele Yeoh
Beyond Bond - Behind the scenes of Matthew Vaughn's Daniel Craig lead film Layer Cake
Look Inside