mi6 confidential
magazine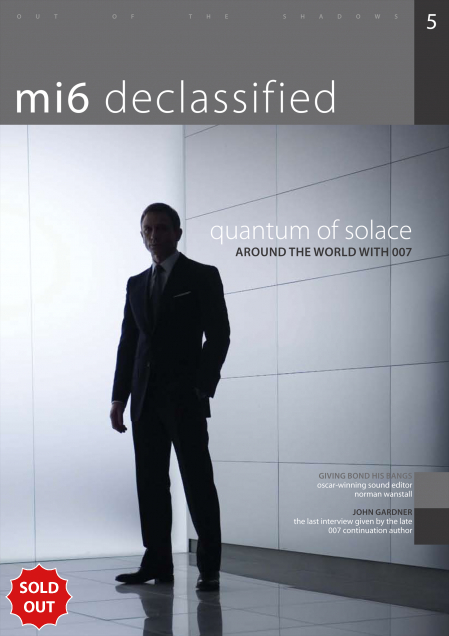 Currently Unavailable
We are out of stock of this issue or bundle.
Issue doesn't exist
Choose Your Country or Region
Choose Your Country or Region
issue 5, volume 2, april 2009
"Quantum of Solace" divided some fans and critics over its style and substance, but one fact is undeniable: 007 was back at the box-office in record-breaking form. With opening weekend tallies smashing historical highs almost everywhere he went, Bond Fever was rampant once again.
MI6 Declassified #5 looks at how the 22nd film thrilled cities around the world and speaks to some of the creative talent behind the movie... and keep an eye out for an exclusive cut scene still!
NB: In 2011 MI6 Declassified was renamed MI6 Confidential.
In This Issue
Coverage of the "Quantum of Solace" world premiere from Leicester Square
Follow 007 around the globe during the launch of the latest film
Cast and crew discuss making "Quantum of Solace"
Jack White and Alicia Keys on "Another Way To Die"
A tribute to author John Gardner including his last indepth interview
Uncover the rare '60s Zig Zag comics series from South America
Interview with Oscar-winning sound editor Norman Wanstall
A unique look at the world through Fleming's eyes in Thrilling Cities
Look Inside