mi6 confidential
magazine

Advisory for EU customers
With Great Britain leaving the European Union, MI6 Confidential does not anticipate significant price rises for shipping to the EU. However, each parcel will now require customs clearance and this will add to the delivery times. Please allow two to four additional days for shipping. We anticipate the delays to reduce later in the year.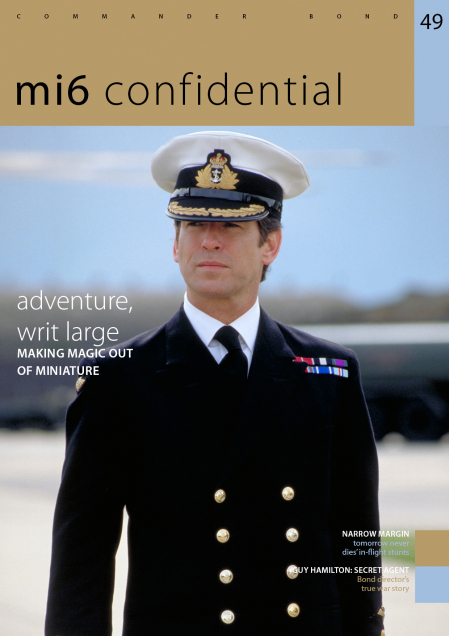 Order Now
This text-rich, full colour magazine is shipping worldwide for: £7.00 / $9.50 / €8.50 + P&P

Choose Your Country or Region
Choose Your Country or Region
issue 49, volume 13, april 2019
It is surprisingly infrequent that the Bond movies reflect on Bond's military pedigree – a Commander in the Royal Navy, recruited to military intelligence, starting as a Lieutenant, by the end of the war a Commander, acknowledged with Companion of the Order of St Michael and St George. It was in the Navy he was mentored in strategy and given the opportunity to run his first missions from afar.
This issue celebrates two films in which Bond's military connection is most acknowledged: The Spy Who Loved Me and Tomorrow Never Dies, with features on their making and what might have been. We also take a deep dive into the murky world of real-life espionage with a look at at Bond director Guy Hamilton's time in service.
In This Issue
Adventure, Writ Large - Model supervisor Brian Smithies talks Tomorrow Never Dies
Narrow Margin - The stunt work of Bond 18's pre-titles
The Derek Meddings Interview - Richard Schenkman revisits his 1978 meeting with the visual effects wizard
The Spy Who Loved Me - drafts of the film recounted
Beyond Bond - Guy Hamilton's real-life spy adventures in Norway are revealed
Look Inside