mi6 confidential
magazine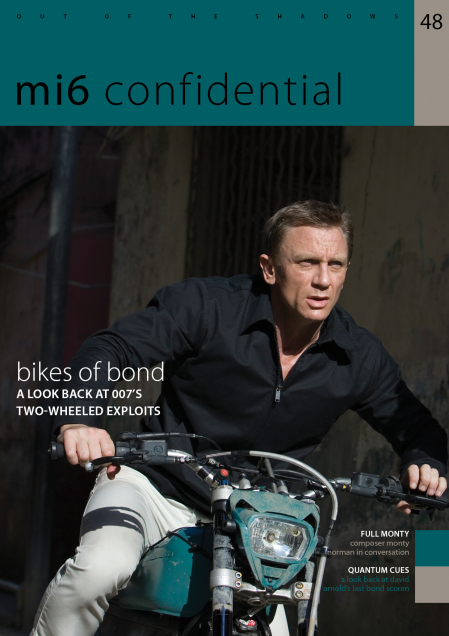 Order Now
This text-rich, full colour magazine is shipping worldwide for: £7.00 / $9.50 / €8.50 + P&P


Check Out With Credit Card
** This magazine ships from the UK.
Amazon not available for this issue.
Choose Your Country or Region
Choose Your Country or Region
issue 48, volume 12, dec 2018
Often having a life of its own outside of the film it was written for, the music in the James Bond series is some of the best known around the world. Whether it's the famous James Bond Theme, a title song, or lush riffs from a soundtrack, the sound of 007 is unique and instantly recognisable. This issue celebrates a variety of musical contributors to the series, including composers David Arnold and Monty Norman and title song artists a-ha, Nancy Sinatra, Carly Simon and Sir Paul McCartney.
We also look back at Quantum of Solace, which celebrates its 10th anniversary this year, along with features on 007's two-wheeled exploits, and the little known story of Ian Fleming's Danish medal.
In This Issue
The Full Monty (Norman) - An interview with the James Bond theme composer
Quantum Cues - David Arnold's last Bond score in retrospect
Down To The Wire - a-ha guitarist Paul Waaktaar-Savoy talks The Living Daylights
Beatles and Bond - The many connections between Paul McCartney and 007
Where's The Kickstarter - A look back at 007's two-wheeled exploits
Gone Native - The politics of Latin America explored in Quantum of Solace
Beyond Bond - Meet the junior spies from the literary world
Look Inside