mi6 confidential
magazine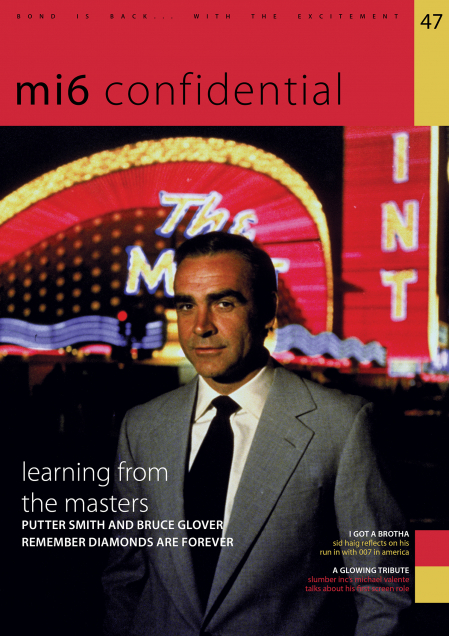 Order Now
This text-rich, full colour magazine is shipping worldwide for: £7.00 / $9.50 / €8.50 + P&P


Check Out With Credit Card
** This magazine ships from the UK.
Amazon not available for this issue.
Choose Your Country or Region
Choose Your Country or Region
issue 47, volume 12, oct 2018
Diamonds Are Forever is a unique entry in the series for many reasons, perhaps most notably as it is the only film to be book-ended by two different James Bond actors. It was an unstable time for the franchise, and despite Sean Connery thinking the film had one of the best scripts (his opinion may have been swayed by the record payday he was to receive), it had a particularly nasty tone throughout that would not be seen again until Licence To Kill some 18 years later.
In this issue, the henchman and heavies of Diamonds reflect on their time with Connery and fond memories of filming. We also go behind the scenes with the latest, collectible Bond figures, dive into the 'Casino Royale' graphic novel from Dynamite, and celebrate the opening of 007 Elements at the peak of Gaislachkogl Mountain in Sölden.
In This Issue
Learning From The Masters - Putter Smith and Bruce Glover reminisce
I Got A Brotha - Slumber Inc's Sid Haig in conversation
A Glowing Tribute - Michael Valente remembers his first screen role
Diamond Gallery - Curious and rare behind the scenes photos
Scratching The Surface - The men behind the new Casino Royale graphic novel
In The Elements - The new SPECTRE-inspired Bond exhibition
Beyond Bond - Christopher McQuarrie talks Mission: Impossible
Look Inside