mi6 confidential
magazine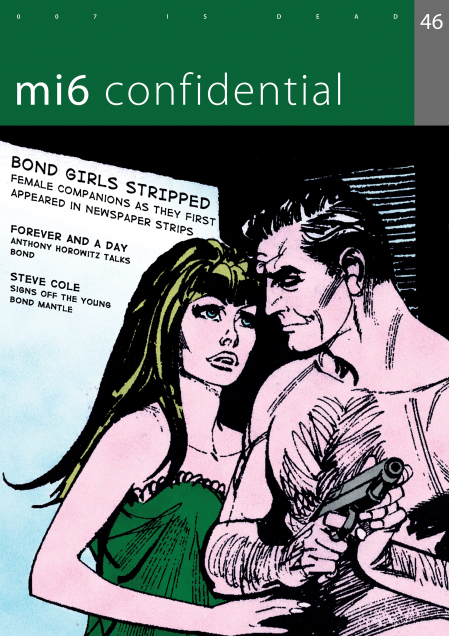 Order Now
This text-rich, full colour magazine is shipping worldwide for: £7.00 / $9.50 / €8.50 + P&P


Check Out With Credit Card
** This magazine ships from the UK.
Amazon not available for this issue.
Choose Your Country or Region
Choose Your Country or Region
issue 46, volume 12, june 2018
In the 54 years since Ian Fleming's passing, 10 men have had the chance to celebrate and chronicle the creator's famous spy in original print adventures. Some, with varying success, have also tried to mimic his sharp prose. Of those 10, only one has had the privilege and challenge of integrating original and unused Fleming material. After doing so successfully in 2015, Anthony Horowitz was invited to reprise this role for 'Forever and a Day', released this May.
This issue we speak exclusively to Horowitz about the research, writing style and enormity of the task of integrating his timeline with Fleming's. We also bid farewell to four-time Young Bond author, Steve Cole, learn about Bond and Fleming's pursuit of golf, and meet an unlikely but admirable parallel to 007 in print, the detective and gourmand: Nero Wolfe.
In This Issue
Existentialism and Double Zeros - Horowitz on handling 007 the second time
On the Links - Fleming, Bond and golf
An Unlikely Alliance - Rex Stout, his creation Nero Wolfe and the Fleming connection
Bond Girls Stripped - Part two of our analysis of 007's female comic strip companions
A New Stage - Steve Cole reflects on his six years with Young Bond
Sun and Snow - Effects supervisor Brian Smithies and his contribution to The Living Daylights
Beyond Bond - The psychological spy thriller, Red Sparrow
Look Inside