mi6 confidential
magazine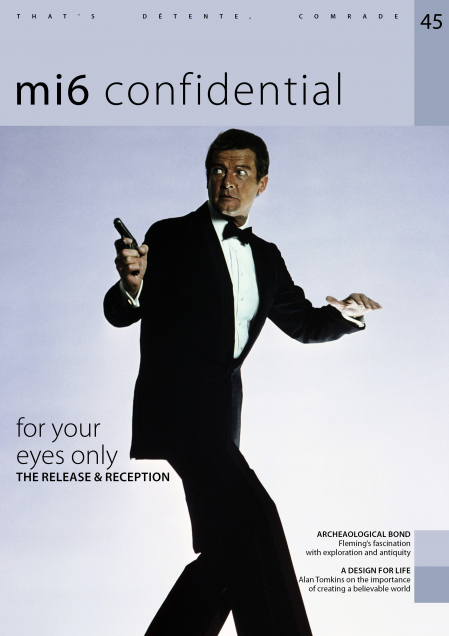 Order Now
This text-rich, full colour magazine is shipping worldwide for: £7.00 / $9.50 / €8.50 + P&P


Check Out With Credit Card
** This magazine ships from the UK.
Amazon not available for this issue.
Choose Your Country or Region
Choose Your Country or Region
issue 45, volume 12, april 2018
Bringing Bond back 'down to earth' after Moonraker did not mean there was any less at stake for EON Productions' 12th 007 adventure. They promoted action unit director and editor John Glen to the role of director, had to woo Sir Roger Moore back into the tuxedo, all the while feeling the pressure to recalibrate and chart the course of Bond films for the new decade.
This issue, we look back to the release and publicity of For Your Eyes Only, with impressions from all the principal cast and crew, a retrospective on Marvel Comics' first brush with Bond, and dive into the subaquatic archaeology as seen in the 1981 film. We round out the coverage with an exclusive conversation with veteran art director, Alan Tomkins, whose career spans 40 years with credits from Dr. No to Die Another Day.
In This Issue
For Your Eyes Only - Impressions from the cast and crew as the film hit screens
Archaeological Bond - Recreating the subaquatic temple in For Your Eyes Only and Fleming's own fascination with the subject
The Marvel Experiment - Marvel produced the first of a few Bond comic tie-ins in 1981
Tailin' A Cue Ball - The funky cab driver, Arnold Williams, talks Live And Let Die
A Design For Life - Art director Alan Tomkins on the importance of creating a believable world
Beyond Bond - Martin Campbell reunites with Pierce Brosnan for The Foreigner
Look Inside