mi6 confidential
magazine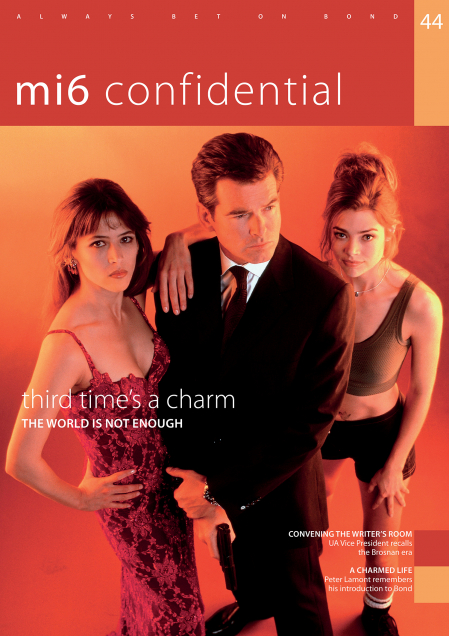 Order Now
This text-rich, full colour magazine is shipping worldwide for: £7.00 / $9.50 / €8.50 + P&P


Check Out With Credit Card
** This magazine ships from the UK.
Amazon not available for this issue.
Choose Your Country or Region
Choose Your Country or Region
issue 44, volume 12, march 2018
As the clock ticked down to the new millennium, the nineteenth James Bond film, The World Is Not Enough, launched in cinemas. It was a point of reflection for many, and questions still hung in the air if 007 was a relevant hero for today's world. A $361m take at the global box-o ce answered firmly – yes – he was. For this issue we trawled our archives for interviews with the principal cast conducted as filming wrapped back in 1999.
Tying in to this look back at Brosnan's third outing as 007 is an extensive interview with UA executive Jeff Kleeman, who oversaw the re-launch of the franchise in the 1990s. It is always with great pleasure that we speak with production designer Peter Lamont about his long career, and this issue rounds out with his memories of how he got started in the industry and the early Bonds.
In This Issue
Third Time's a Charm - Pierce Brosnan felt settled with the character by 1999
In a Man's World - Sophie Marceau and Denise Richards played strong and capable women
Changing of the Guard - Desmond Llewelyn and John Cleese discuss the beloved 'Q'
Wheeler Dealer - Robbie Coltrane enjoyed his expanded role in The World Is Not Enough
Convening the Writers Room - UA exec Jeff Kleeman remembers the fast-paced Brosnan era
Beyond Bond - Cold war breathed back to life in Atomic Blonde
Look Inside