mi6 confidential
magazine

Advisory for EU customers
With Great Britain leaving the European Union, MI6 Confidential does not anticipate significant price rises for shipping to the EU. However, each parcel will now require customs clearance and this will add to the delivery times. Please allow two to four additional days for shipping. We anticipate the delays to reduce later in the year.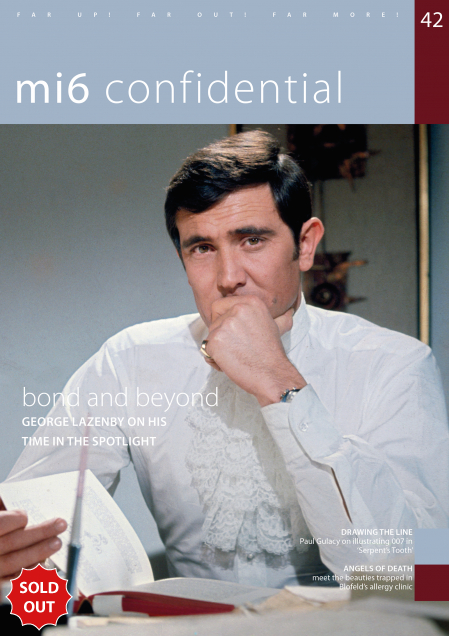 Currently Unavailable
We are out of stock of this issue or bundle.
Choose Your Country or Region
Choose Your Country or Region
issue 42, volume 11, october 2017
George Lazenby is nothing if not an independent spirit. He charmed the producers into testing him for Bond, and he shocked everyone when he declined to reappear as the world's most famous spy. Since making the decision to step down after just one Bond film, 007 has cast a shadow over his whole career. In this issue, we find out how Lazenby has dealt with the fame and infamy of being the "one-time" Bond.
We also investigate the relationship between Lazenby and his leading lady, Diana Rigg, ask how Fleming responded to the filmmakers decisions in print, and throw a spotlight on the work of Paul Gulacy, the artist behind the 'Serpent's Tooth' comic books.
In This Issue
Bond and Beyond - George Lazenby reflects on 007's lifelong shadow
Why Do You Persist On Rescuing Me? - Diana Rigg's time as Mrs Bond
Angels Of Death - Meet the harem of Blofeld's girls in this rare pictorial special
Meeting Of The Minds - What influence did EON have on Fleming's later work?
Drawing The Line - Paul Gulacy and his time illustrating Bond
Beyond Bond - Josh Greenbaum talks his unorthodox Lazenby documentary
Look Inside