mi6 confidential
magazine

Advisory for EU customers
With Great Britain leaving the European Union, MI6 Confidential does not anticipate significant price rises for shipping to the EU. However, each parcel will now require customs clearance and this will add to the delivery times. Please allow two to four additional days for shipping. We anticipate the delays to reduce later in the year.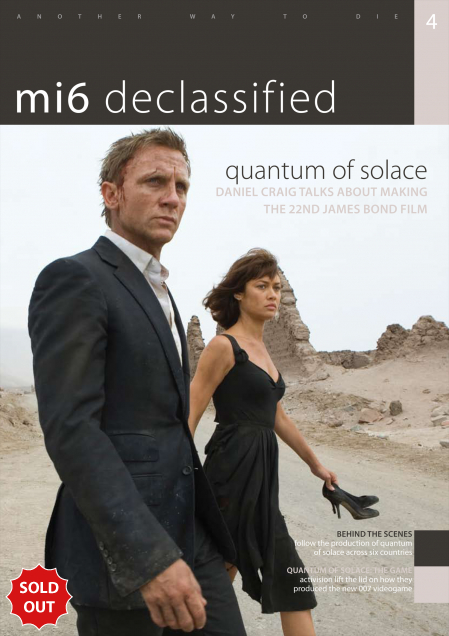 Currently Unavailable
We are out of stock of this issue or bundle.
Issue doesn't exist
Choose Your Country or Region
Choose Your Country or Region
issue 4, volume 2, october 2008
Was it possible to squeeze in 007 star Daniel Craig, director Marc Forster, and producers Michael G. Wilson & Barbara Broccoli all talking about the 22nd James Bond adventure in to a regular issue? No! Which is why MI6 Declassified issue #4 is an extended special edition that includes an in-depth look behind the scenes of the new film, crammed with exclusive photographs you won't see anywhere else. Along with features on the villain, girls, and tie-in videogame, you'll come to regard this issue of MI6 Declassified as your companion to Quantum of Solace.
NB: In 2011 MI6 Declassified was renamed MI6 Confidential.
In This Issue
Go behind the scenes of Quantum of Solace with exclusive photographs
Extensive production guide covering six countries over 103 days
Daniel Craig and Marc Forster discuss making the 22nd adventure
Introducing Olga Kurylenko and Gemma Arterton as the new Bond Girls
Daniel Craig and Mathieu Amalric talk about their characters' relationship
Conversation with producers Michael G. Wilson and Barbara Broccoli
Activision lift the lid on how they produced the new 007 videogame
Five authors dissect Ian Fleming's creation: 007's past, present and future
Look Inside