mi6 confidential
magazine

Advisory for EU customers
With Great Britain leaving the European Union, MI6 Confidential does not anticipate significant price rises for shipping to the EU. However, each parcel will now require customs clearance and this will add to the delivery times. Please allow two to four additional days for shipping. We anticipate the delays to reduce later in the year.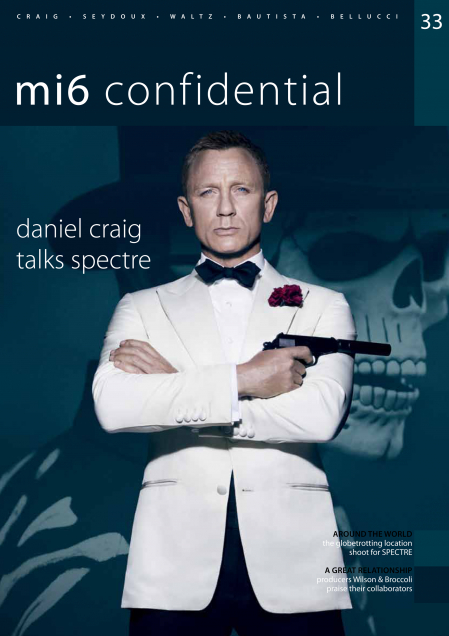 Order Now
This text-rich, full colour magazine is shipping worldwide for: £7.00 / $9.50 / €8.50 + P&P


Check Out With Credit Card
Choose Your Country or Region
Choose Your Country or Region
issue 33, volume 9, november 2015
The team returning from Skyfall knew that the 24th adventure had to be bigger and better than its predecessor. Mendes attracted talent in the form of leading actors Christoph Waltz and Léa Seydoux, he brought on up and coming cinematographer Hoyte van Hoytema and took Bond on an eight month whirlwind tour that included location work on three continents. This issue celebrates the bombastic SPECTRE with a full account of the location work, as well as catching up with Daniel Craig, his co-stars, and Bond producers Broccoli and Wilson. Just be sure to watch the film before you dive in...
NB: Ships at the time of the US release.
In This Issue
No Small Part - Daniel Craig on his commitment to the 007 role
Around The World With SPECTRE - The globetrotting location shoot for Bond 24
Challenging Archetypes - Christoph Waltz dissects the iconic characters of the franchise
A Great Relationship - Broccoli & Wilson praise their team for the success of SPECTRE
Riding Into The Sunset - Léa Seydoux plays coy about her character's influence on Bond
A Look And A Grin - Dave Bautista credits Mendes & Craig for the success of his strongman
The Feminine Mystique - Monica Bellucci reflects on the enduring legacy of Bond women
The Bond Connection - Making Steven Spielberg's period thriller Bridge of Spies
Look Inside