mi6 confidential
magazine

Advisory for EU customers
With Great Britain leaving the European Union, MI6 Confidential does not anticipate significant price rises for shipping to the EU. However, each parcel will now require customs clearance and this will add to the delivery times. Please allow two to four additional days for shipping. We anticipate the delays to reduce later in the year.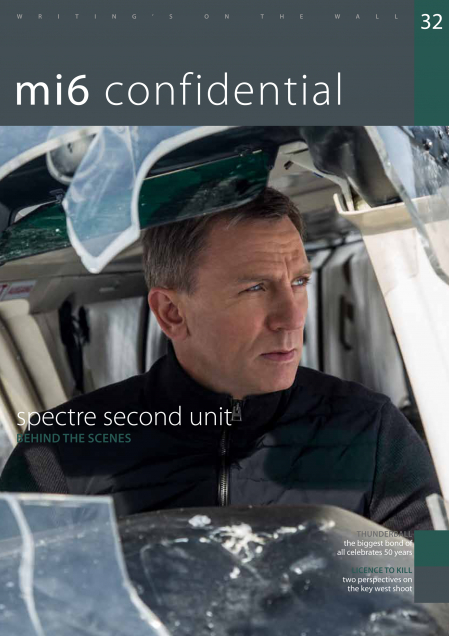 Order Now
This text-rich, full colour magazine is shipping worldwide for: £7.00 / $9.50 / €8.50 + P&P


Check Out With Credit Card
Choose Your Country or Region
Choose Your Country or Region
issue 32, volume 9, october 2015
Sam Mendes had a particular vision for a car chase through the streets of Rome. It's the dead of night, the streets are clear and two spectacular hyper- cars are going head to head. In this issue we meet the team who brought that vision to life: the 300-strong SPECTRE second unit, headed by Alexander Witt. We also recount the little-known story of Donald Westlake, author and screenwriter who drafted a treatment for Bond 18; cast a look back at the Key West shoot for Licence To Kill with rare photos and artwork, and celebrate the biggest Bond of all, Thunderball, as 2015 marks its 50th anniversary.
In This Issue
Eternal Raceway - Behind the scenes with the SPECTRE second unit
Fall of the City - Author Donald Westlake and his Bond 18 treatment
Licence To Kill - An original 1989 report from the set
Bond on Set - Rare photos from the Licence To Kill Key West shoot
The Biggest Bond of All - Thunderball took 007 to new heights and great depths
Down Under - A conversation with underwater action director Ricou Browning
The Real Shrublands - When Ian Fleming checked into health farm Enton Hall
The Bond Connection - Spooks: The Greater Good brings MI5 to the big screen
Look Inside