mi6 confidential
magazine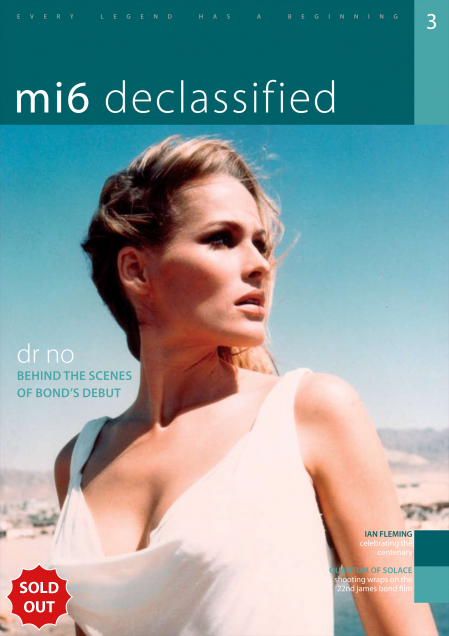 Currently Unavailable
We are out of stock of this issue or bundle.
Choose Your Country or Region
Payment Authorised
Thank you for your payment, your transaction ID is:
×
Choose Your Country or Region
×
issue 3, volume 1, august 2008
Add together the Ian Fleming centenary celebrations, the 22nd James Bond film Quantum of Solace, the first videogame from Activision, a retrospective on the shooting of Dr No on location in Jamaica, an exclusive behind-the-scenes history on the first comic strip Casino Royale, and much, much more... MI6 Declassified #3 proves that Bond can't be beat!
2008 was one of the most packed years for Bond fans and this issue reflects the breadth and depth of the 007 canon.
NB: In 2011 MI6 Declassified was renamed MI6 Confidential.
In This Issue
Cast and crew talk about wrapping filming on Quantum of Solace
Take a tour of the Ian Fleming exhibitions celebrating his life & creation
Shooting Dr No on location in Jamaica - behind the scenes with rare photographs
Never before published Fleming correspondence
Casino Royale comic strip celebrates its 50th anniversary
The new novel Devil May Care by Sebastian Faulks is launched in style
David Arnold on writing the theme song for Casino Royale
Activision unveil the next generation of interactive Bond
Look Inside