mi6 confidential
magazine

Advisory for EU customers
With Great Britain leaving the European Union, MI6 Confidential does not anticipate significant price rises for shipping to the EU. However, each parcel will now require customs clearance and this will add to the delivery times. Please allow two to four additional days for shipping. We anticipate the delays to reduce later in the year.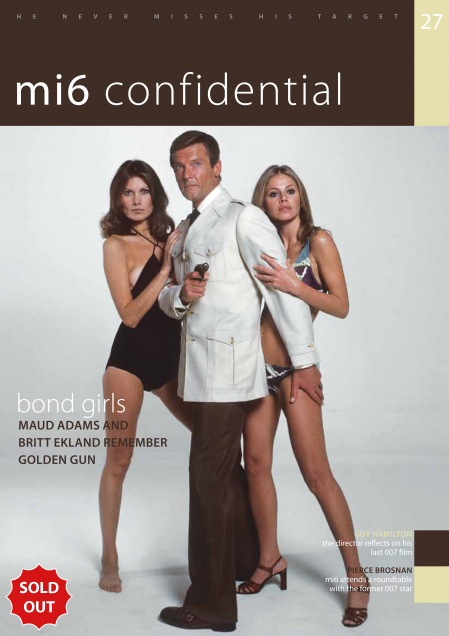 Currently Unavailable
We are out of stock of this issue or bundle.
Choose Your Country or Region
Choose Your Country or Region
issue 27, volume 8, december 2014
Although not often hailed as the greatest or most memorable Bond adventure, The Man With The Golden Gun took the Bond family to the fantastic vistas of Southeast Asia, and welcomed a high calibre cast and crew, including the Hammer horror hero Christopher Lee, and Academy Award winning cinematographer Oswold Morris, to name just two.
As the film celebrates its 40th anniversary, we delve into the little-told story of Golden Gun, with interviews with its director, both Bond girls, and the late cinematographer Oswold Morris. We also had the privilege of catching up with Bond star Pierce Brosnan and his colleagues behind The November Man, and take a look at the making of his new espionage adventure.
In This Issue
Britt Ekland talks of her early career and time on the set of 007's ninth big screen adventure
Maud Adams reflects on her transition from model to actress and her first Bond girl role
Guy Hamilton - The director recalls the inspiration for his final Bond outing
Comic Relief - Clifton James on becoming the loudmouthed Sheriff J. W.
All in the Details - Ian Fleming's 'From Russia With Love,' from novel to comic strip
The Bond Connection - An interview with Pierce Brosnan and 'November Man' collaborators
Look Inside