mi6 confidential
magazine

Advisory for EU customers
With Great Britain leaving the European Union, MI6 Confidential does not anticipate significant price rises for shipping to the EU. However, each parcel will now require customs clearance and this will add to the delivery times. Please allow two to four additional days for shipping. We anticipate the delays to reduce later in the year.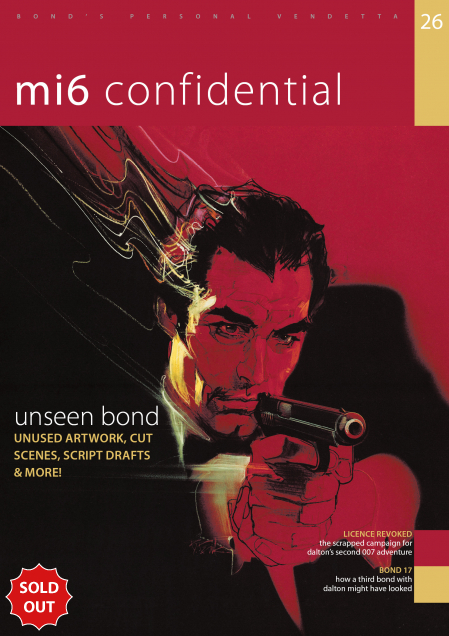 Currently Unavailable
We are out of stock of this issue or bundle.
Choose Your Country or Region
Choose Your Country or Region
issue 26, volume 8, august 2014
More than two years ago we set ourselves a challenge: to track down an array of 007 paraphernalia that never made it to mainstream media and present it for our readers in an 'unseen' edition to our magazine. Today we proudly present the first, but perhaps not last, 'Unseen' issue, and it features some rarely viewed artwork, along with detailed analysis and history.
We touch on all facets of the Bond franchise, from the concepts and backstory to the Licence Revoked marketing campaign, through script drafts unearthed from the Brosnan era and an array of cut scenes and might-have-beens spanning Bond's 50 years, to the unmade Bond 17 scheduled to star Timothy Dalton. We even had time to chat to author Steve Cole, who teases his yet unseen 'Shoot To Kill'
In This Issue
Artistic License - A look at the marketing campaign for 'Licence Revoked'
Bond 17 - The backstory & treatment for the un-made 007 film starring Timothy Dalton
The Next Shot - An exclusive interview with Young Bond author Steve Cole
From Script To Screen - The Bruce Feirstein draft of 'Tomorrow Never Dies' examined
Unseen Bond - After 50 years of filmmaking, what gems were left in the cutting-room?
The Bond Connection - Ian Fleming's 'The Poppy Is Also A Flower'
Look Inside