mi6 confidential
magazine

Advisory for EU customers
With Great Britain leaving the European Union, MI6 Confidential does not anticipate significant price rises for shipping to the EU. However, each parcel will now require customs clearance and this will add to the delivery times. Please allow two to four additional days for shipping. We anticipate the delays to reduce later in the year.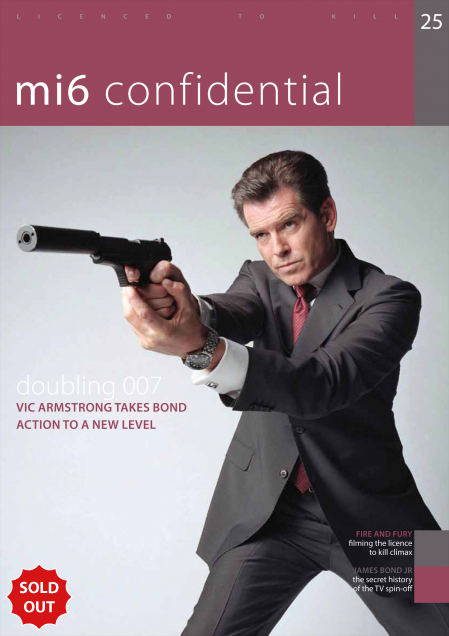 Currently Unavailable
We are out of stock of this issue or bundle.
Choose Your Country or Region
Choose Your Country or Region
issue 25, volume 7, april 2014
Action and animation is the predominant theme of this issue as we have an exclusive in-depth interview with action unit supremo Vic Armstrong, talk to the stunt team behind the fiery climax to Licence To Kill, uncover the secret history of the often overlooked spin-off James Bond Jr. and celebrate the successful spy series Archer with the cast and crew. Oh, and we also chatted to two of the Bond girls from Diamonds Are Forever.
In This Issue
Doubling 007 - Vic Armstrong took 007 to new heights as stunt double & coordinator
Fire And Fury - Stunt performers for Licence To Kill discuss the spectacular climax
James Bond Jr - The secret history of the TV animated series spin-off
The Man Who Green Lit Bond - An exclusive conversation with UA's David Picker
The Cars of Ian Fleming - A look at the 007 author's taste in personal motors
Bond Bound - Lana Wood recalls her time with Sean Connery on Diamonds Are Forever
London Calling - Unveiling the Bond in Motion exhibition in the British capital
The Bond Connection - The cast and creative team talk about their TV spy-spoof, Archer
Look Inside