mi6 confidential
magazine

Advisory for EU customers
With Great Britain leaving the European Union, MI6 Confidential does not anticipate significant price rises for shipping to the EU. However, each parcel will now require customs clearance and this will add to the delivery times. Please allow two to four additional days for shipping. We anticipate the delays to reduce later in the year.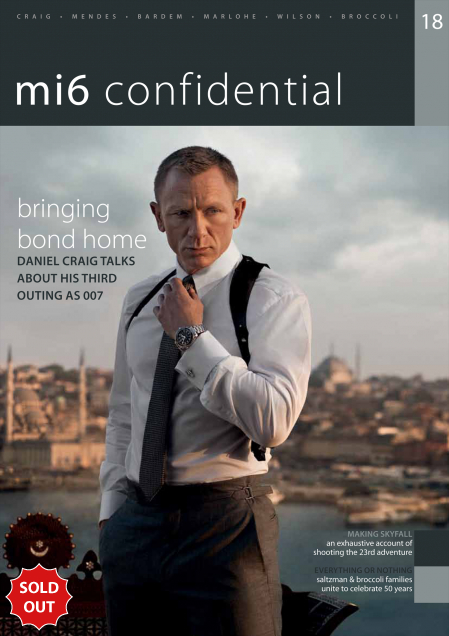 Currently Unavailable
We are out of stock of this issue or bundle.
Choose Your Country or Region
Choose Your Country or Region
issue 18, volume 6, october 2012
We undeniably have a classic in the making on our hands in the form of Skyfall. To celebrate the release of the 23rd adventure, MI6 Confidential takes you behind the scenes of the shoot with an exhaustive account of the production.
Also in this issue, Daniel Craig gives MI6 a candid interview about his role both on screen and off and Sam Mendes comments on the return of some of the classic Bond elements. Rounding out the coverage are interviews with Javier Bardem, the producers, and the new Bond girl Bérénice Marlohe.
In This Issue
Daniel Craig Interview - The 007 star talks about "Skyfall" and the future of Bond
Bringing Bond Home - An exhaustive account of the making of the 23rd Bond film
Classic Ingredients - Director Sam Mendes shares some of the classic "Skyfall" Bond moments
You Naughty Boy - Bérénice Marlohe reflects on her relationship with 007
Are You Sitting Comfortably? - Javier Bardem dissects his creepy character
Standing on the Shoulders of Giants - Michael G. Wilson and Barbara Broccoli on the 007 legacy
Everything or Nothing - The Saltzman & Broccoli families unite to celebrate 50 years of Bond
The Bond Connection - Celebrating Harry Saltzman's lesser known pre-Bond productions
Look Inside