mi6 confidential
magazine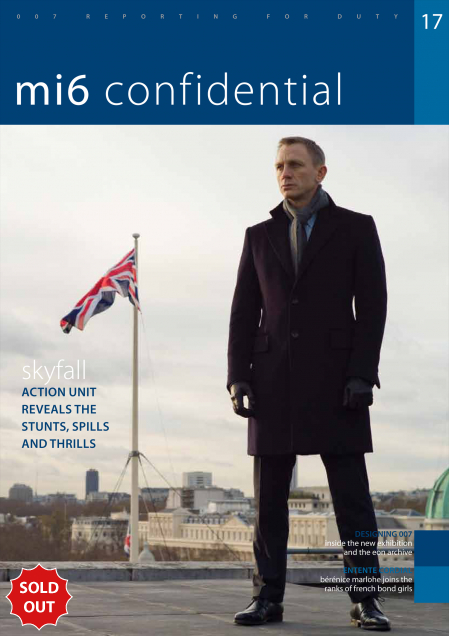 Currently Unavailable
We are out of stock of this issue or bundle.
Choose Your Country or Region
Choose Your Country or Region
issue 17, volume 6, august 2012
The Bond world is buzzing. With just a few weeks to go before "Skyfall" hits cinemas, we've seen the launch of film's promotional campaign, the opening of the most exhaustive exhibition of 007 design, and Activision continually tease fans with a new look at their upcoming videogame, '007 Legends'.
We cover all of the above in this issue, but the highlight must be the time we spent with stunt coordinator, Gary Powell, who spoke exclusively to MI6 Confidential about the "Skyfall" pre-titles sequence. Finally, we have just enough time to celebrate the French Bond girls of the franchise, as Bérénice Marlohe joins their ranks this year.
In This Issue
Skyfall Action - Exclusive interview with stunt coordinator Gary Powell
Entente Cordiale - Bérénice Marlohe joins a long list of French Bond Girls
All About Eve - Naomie Harris plays an MI6 field agent in "Skyfall"
007 Legends - Activision lift the lid on their ambitious new videogame
50 Years Of Bond Style At The Barbican - Take a tour of the new exhibition
Inside The EON Archive - Exclusive interview with Archive Director Meg Simmonds
Sunspel In 007 Heaven - Recreating James Bond's iconic shorts
The Bond Connection - Ex-Special Ops agent Aaron Cohen reveals the secrets of "Haywire"
Look Inside