mi6 confidential
magazine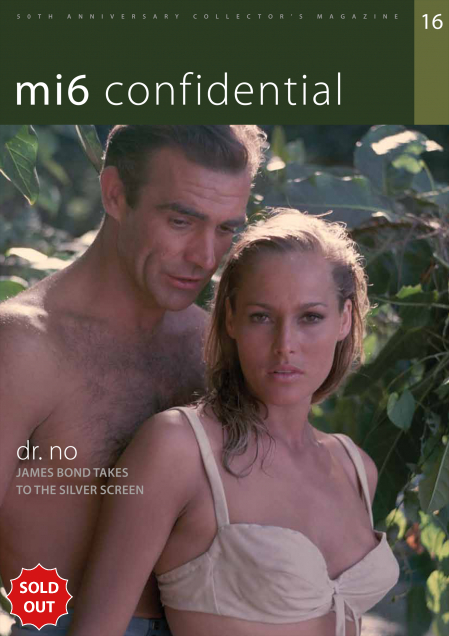 Currently Unavailable
We are out of stock of this issue or bundle.
Choose Your Country or Region
Payment Authorised
Thank you for your payment, your transaction ID is:
×
Choose Your Country or Region
×
issue 16, volume 6, august 2012
Take a journey back to James Bond's beginnings with this special collector's issue of MI6 Confidential, celebrating the first 007 film, "Dr. No", as it marks its 50th anniversary in 2012.
Collected amongst these pages are original press materials used to promote the film and lure audiences to cinemas back in 1962. As nobody knew quite what an international sensation Ian Fleming's spy would become on the silver screen, this issue is a fascinating snapshot in time just before Bond Fever hit.
In This Issue
His Name Is Bond - Sean Connery: from milkman to spy
Being Bond - In his own words, Connery reveals his approach to playing 007
The Man With The Platinum Hands - Meet 007's first megalomaniacal foe
The Girl Who Has Everything - Swiss beauty Ursula Andress makes a splash
Danger Man - When the action heats up, veteran stuntman Bob Simmons stands in
The Women Of 007 - Meet the other ladies vying for Bond's attention
Commander Jamaica - The "Dr. No" crew discuss shooting on location
Hero Number One - Realising Ian Fleming's imagination on the silver screen
Look Inside