mi6 confidential
magazine

Advisory for EU customers
With Great Britain leaving the European Union, MI6 Confidential does not anticipate significant price rises for shipping to the EU. However, each parcel will now require customs clearance and this will add to the delivery times. Please allow two to four additional days for shipping. We anticipate the delays to reduce later in the year.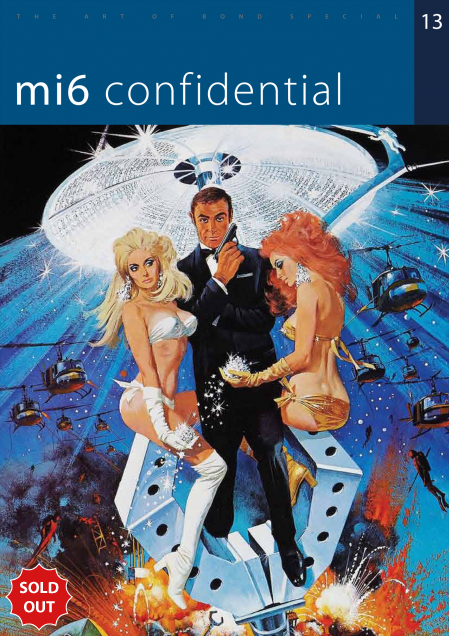 Currently Unavailable
We are out of stock of this issue or bundle.
Choose Your Country or Region
Choose Your Country or Region
issue 13, volume 5, january 2012
Whether it be early conceptual artwork, the production design of sets and gadgets, poster campaigns, or bringing a literary character to life, James Bond's world owes a lot to the many creative processes and talented people who have contributed over the decades.
This special issue features a few snapshots of those elements from the films, books, games and comics - including a lot of rare imagery taken from the archives that fans may not have seen before - and celebrates some of the lives of those who made their mark on the visual experience of 007.
In This Issue
Larger Than Life - A look back at the career of production designer Sir Ken Adam
A Life Through the Lens - Memoirs of the late cinematographer Alan Hume
Visualising Young Bond - How artist Kev Walker brought the character to life
Classic Posters - Uncovering some of the rare artwork from the Sean Connery era
Beauty and Death - The life and style of cover designer Richard Chopping
From Russia With Ink - The journey of the most prolific 007 comic artist, Yaroslav Horak
Location Concepts - Rare early designs from EA's 'Everything or Nothing'
The Bond Connection - The Mission: Impossible team divulge the gadget secrets of 'Ghost Protocol'
Look Inside