Amongst the special guests featured in MI6 Declassified #6 are: actor Robert Davi reflecting on his role as Sanchez as Licence To Kill celebrates its 20th anniversary, Wing Commander Ken Wallis discussing Little Nellie, and author Charlie Higson on completing his fifth Young Bond book.
This issue includes the first of a series of indepth features on the classic James Bond films with a 10-page 'Making You Only Live Twice' special. With rarely seen photography and anecdotes from cast and crew, MI6 Declassified #6 is not to be missed!
In This Issue
Exclusive interview with Robert Davi on his role as Sanchez in Licence To Kill
Making You Only Live Twice - an exhaustive account of the fifth EON production
Author Charlie Higson talks about his fifth Young Bond book
Shooting in Key West - following the production of Licence To Kill in Florida
David Hedison reflects on playing Felix Leiter twice
Flying With Commander Ken Wallis - Little Nellie's inventor and pilot
Domark's early Bond games are remembered as a blast from the past
Before Bond - a look back at Cubby Broccoli's pre-007 productions
Look Inside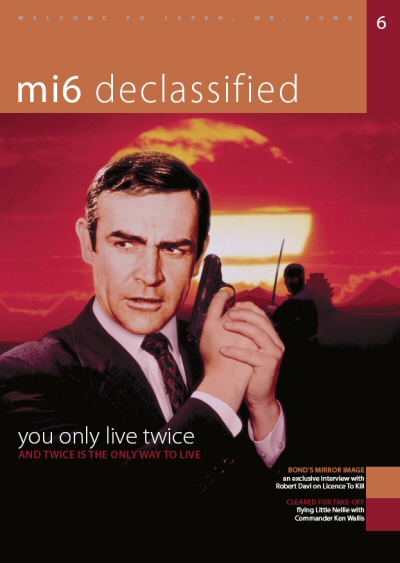 Sold Out | Currently Unavailable
We are out of stock of this issue or bundle.
MI6 Declassified magazine changed its title to MI6 Confidential in March 2011 (Issue #9 onwards).